DE MAULEY FAMILY. BARONS OF MULGRAVE, YORKSHIRE
The de Mauley family are the ancestors of, at least some, of the English Maule families. Details of the known connection are given on the 'Coats of Arms' page.
They probably also have descendants named Mauler and Mawley.
Peter I (Piers) de Mauley was born in Poitou, France. His parents are unknown. A favourite of King John, he was referred to as one of his evil counsellors. He married Isabel, heiress of the barony of Mulgres (Mulgrave), and daughter of Robert de Turnham. Turnham's lands were granted to de Mauley on 25 April 1214. He built Mulgrave Castle, near Whitby, Yorkshire. Piers I died on crusade in the Holy Land in 1241.
He was succeeded by another seven generations of Peters. The barony fell into abeyance in 1415 when Piers VIII died without issue.
The present barony was created in 1838 for William F. S. Ponsonby, the son of the Earl of Bessborough, who is descended from the marriage of Elizabeth de Mauley to George Salvaine.

FAMILY TREE OF DE MAULEY FAMILY OF YORKSHIRE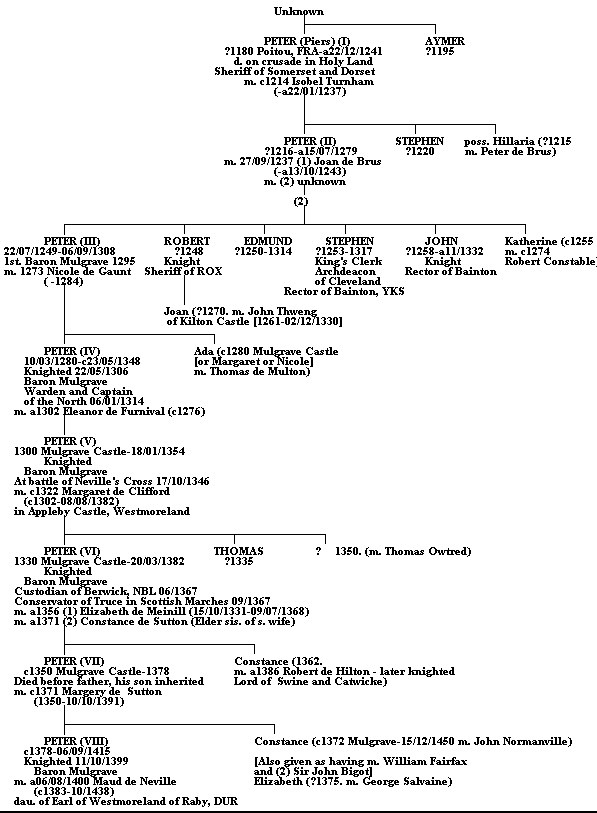 LINKS TO PAGES IN THIS COLLECTION.